Welcome to the USA Safety Surfacing Experts - #1 Nationwide

Since we first entered the rubber safety surfacing market, we have dedicated ourselves to delivering the best customer service possible while still offering incredibly affordable playground surfacing rates. Since starting, we've extended our services across the United States of America, and we make sure we maintain our reputation of being one of the best in the country. Since then, we've grown to have seasoned installation teams in major cities across the United States. We still collaborate directly with the client to keep programs on track and to assist school districts, counties, and towns in the construction of their playgrounds.
At USA Safety Surfacing Experts, we are dedicated to delivering the best customer experience possible and we work hard every day to provide our customers with high-quality, long-lasting surfaces. Our company provides excellent construction services, but most importantly, we provide our clients with a shock-resistant surface, non-slippery, which can help further protect kids from injury. USA Safety Surfacing Experts are always happy to support and assist you with your rubber surface flooring wishes.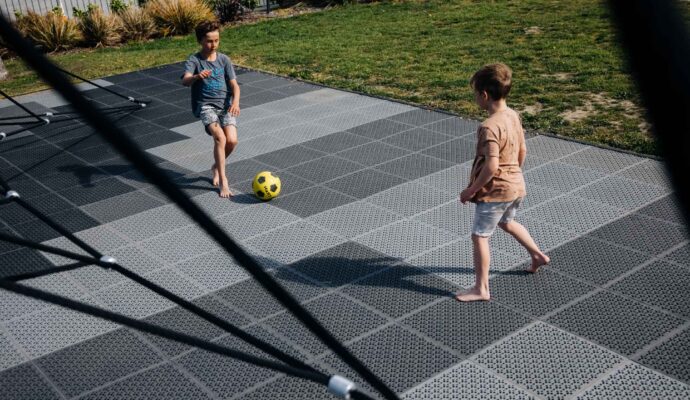 There is no need to look any further from us! USA Safety Surfacing Experts is the place to go for both playground equipment and playground surface construction. Our OSHA-certified playground equipment installers can do anything from assembly to demolition and even relocation. We have a variety of playground solutions such as poured-in-place rubber, pre-formed bricks, rubber mulch, and artificial turf. We are industry professionals who have spent decades specializing in playground surface construction, design, development, and planning. We have years of cumulative playground safety surface installation experience, multiple years of site planning experience, and loads of experience in playground distribution and project management experience. Since we do not use subcontractors, our appraisal, preparation, and actual work are all performed by our professional workers.
Safety Surfacing Services
An outdoor play area is crucial for the good of neighborhoods, schools, and other institutions. The correct surface would improve the look while still being more reliable and secure. Are you searching for a playground surfacing installer? Do you want high-grade safety surfaces for your fun areas? USA Safety Surfacing Experts has dependable, skilled, and trustworthy surfaces in the United States of America. A few characteristics to look for when hiring a manufacturer for your fun area, whether outdoors or indoors, are listed on our website. You'll want to have confidence in the technicians' expertise, product consistency, and leadership skills, also for their customer support.
Our contractors are well-versed and experienced with both the procedures used and the materials they use. The principals have a cumulative history of 6 decades. We possess the necessary equipment to ready the site for the play area and to position the poured-in-place surface that we will have. We include consultations for parks, leisure centers, playgrounds, jogging trails, hiking, or walking paths.
We also sell Perma Turf and Perma Mulch in addition to the PIP product line. The price for surfacing substances varies depending on the content you use. Each product is durable, the price per time unit is beneficial for the majority of applications. The materials are smooth, which prevents many trip-and-fall collisions. Our PIP foundations have been IPEMA-Certified for ASTM F1292 standards which are also ADA (Americans with Disabilities Act) compliant.
Our products require little maintenance and are ideal for cost-conscious protection. We construct playfields, landscapes, and other outdoor spaces. The materials are intended to be environmentally friendly as well as healthy for people and animals. Since the surfaces are non-permeable, the ability to regulate water flow is a significant benefit to Perma-Play surfaces. PIP surfaces are simple to scrub, and the colors are long-lasting, so the appearance remains new and vibrant for several years. If you're considering building a fun area or renovating an established one, our experts are willing to travel to your facility. When we provide options to our clients and potential customers, we understand both landscaping functionality and specifications. When it comes to playground surfacing, we're the people to call. Call us today for a free, no-obligation quote!
Below is our list of additional services:
We're a nationwide safety surfacing company. Click below to find our closest contractor near you
We at USA Safety Surfacing Experts offer the best safety surfacing services throughout the state of Florida. Below are the list of Florida cities we service: