Poured-In-Place Rubber Services by USA Safety Surfacing Experts

An increasing number of schools, playgrounds, and parks with play areas are investing in our poured-in-place rubber surfacing or PIP Rubber. This product has various advantages, including aesthetics, protection, and ease of maintenance. Do you want to learn more about PIP rubber surfacing in your state? If your neighborhood requires a healthy and appealing playground surface, Poured-In-Place Rubber provides the best quality and trusted rubber surfacing solutions.
USA Safety Surfacing Experts sells and installs a variety of products in your state and around the US. Poured-in-place is a substance that is both durable and long-lasting. The surface is also smooth, dependable, and durable. Children are less likely to sustain severe injuries when falling on these surfaces. We are a one-stop shop with everything you need to build a long-lasting playground area.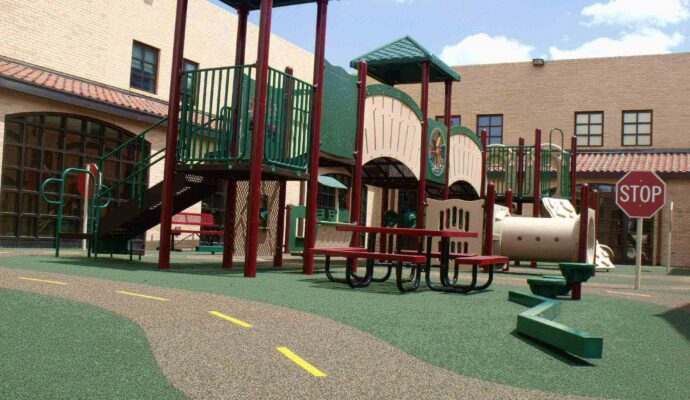 Safety Surfaces Done By Professionals
We have been providing high-quality products since our establishment, and our portfolio presently includes the construction of more than two million square feet of safety surfaces and leisure areas. We have completed projects ranging from the most simple to those of sophisticated graphic designs. Anything from delivering a quotation to completing the process is handled efficiently by us. We not only offer professional installation, but we also offer our expertise to test your playground surfaces and ensure that they follow the requisite protection and quality requirements. If your surfaces need care and maintenance, we will have a trained team to meet your needs. Indoor and outdoor play areas are also featured in our list of completed programs.
We have a long list of satisfied customers all over the states. Municipal engineers, landscape architects, and Parks and Recreation Departments were among them. PIP rubber has also been installed in school districts, churches, the military, and a variety of other organizations. USA Safety Surfacing Experts provide expert planning, building, and installation services for rubber playground surfacing. There is no task too large or too small for us to tackle. One of our customer service agents would gladly go over your project with you. To learn more, give us a call today for a free, no-obligation quote!Y
ou Get To Choose How You Want Your Surface Made
A two-layer system is used for poured-in-place rubber surfacing. The base layer is a Styrene-Butadiene Rubber (SBR) foundation which serves as the surface's effect absorption layer. The Styrene Butadiene Rubber Base is made entirely of recycled materials that would otherwise end up in a landfill. The crown layer is colored coated made of synthetic rubber granules called Ethylene Propylene Diene Monomer (EPDM). Our qualified in-house installation team custom mixes and mixes the Poured-In-Place Rubber surfacing on-site to produce a smooth safety board. In terms of styles, patterns, emblems, and colors for the sandbox, anything can be possible to make with us, the only limitation is your creativity. Including logos and classic games such as Four Square, HopScotch and Tic Tac Toe adds value and aesthetic appeal to your custom surface.
Every rubber surface provided by our company complies with the uniform specification for determining the availability of surface structures around and under playground equipment. Our poured-in-place rubber surfacing follows and exceeds the minimum specification for collision attenuation of surfacing products within playground equipment usage zones. Please email us if you would like a copy of our third-party surface monitoring.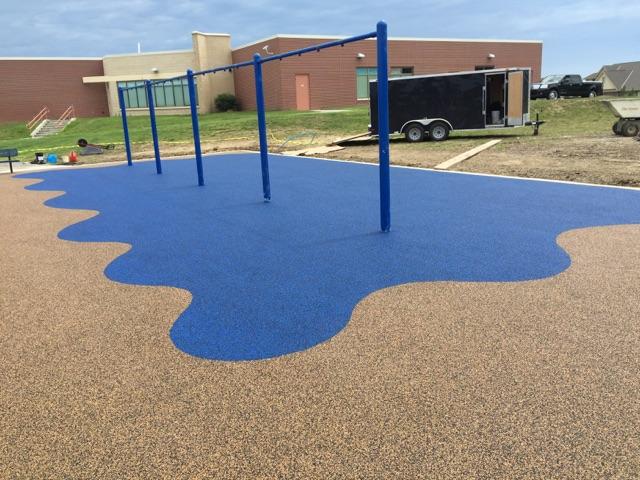 The Advantages of Poured-In-Place Surfacing.
---
Seamless slip-resistant surface, drains water fast, simple to maintain and clean, and is extremely long-lasting. We can make sure your surface installation complies with The Americans with Disabilities Act (ADA) for easy wheelchair access. This can be built both indoors and outdoors; assuring consistent shock absorbency, using materials that do not move out of place during play.
Questions We Answer Daily
Below is our list of additional services:
We're a nationwide safety surfacing company. Click below to find our closest contractor near you
We at USA Safety Surfacing Experts offer the best safety surfacing services throughout the state of Florida. Below are the list of Florida cities we service: