#1 Playground Safety Surfacing Services in St. Augustine, Florida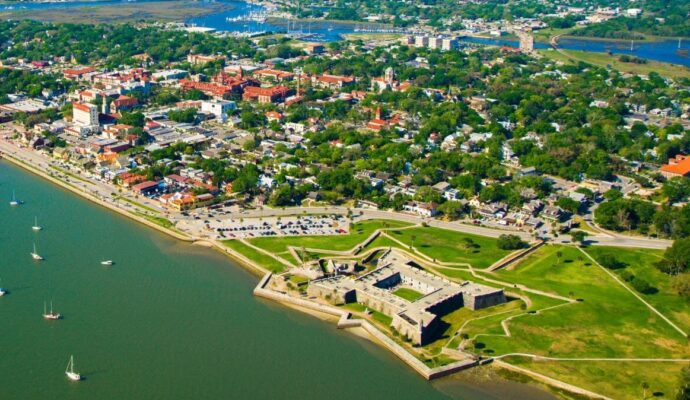 USA Safety Surfacing Experts is the top company you want for all your safety surfacing services. We have been in the industry for over ten years. We serve all of St. Augustine and nearby areas. Our services cover installations and maintenance, even repairs. We will be there for you during the entire process without problems.
It doesn't matter what surface material you want to install. EPDM rubber, bonded rubber, synthetic grass, or turf. Our company specializes in installing all of the above surfacing materials and many more.
We want to ensure you have all the required support, so just contact us immediately! We can guarantee top services and actual safe surfaces for playgrounds and more areas.
Services We Offer in the City
---
Safety Surfacing Services
The point of surfacing is to make sure falls and accidents don't really result in children being hurt. This is why it's quite important in the case of playgrounds and kids. Most of the time, the playgrounds and parks are installed with asphalt or concrete flooring. This only makes things worse and unsafe for everyone.
Thus, you shouldn't underestimate this service. Safety surfacing involves the installation of a layer of safety material over the existing ground. The safety material is usually durable and resilient and comes with shock-absorbing properties. The point is to ensure it is comfortable and soft for children and users.
Based on this, you can choose from different materials:
Poured-In-Place or PIP Rubber
PIP rubber is one of the top options in the market. It's made from a mixture of virgin and recycled rubber. It's safe for kids because of its high shock-absorbing nature. It's very easy to install and is available in numerous colors. You can have it done in no time with our team.
It's good for high traffic. However, this only reduces its durability when placed in fewer volume areas.
Bonded Rubber
This is a unitary surface option that costs less and can even last longer. Bonded rubber uses larger rubber pieces. They are tightly held together using an abiding agent. It can be basically installed over every substrate without having to do any major preparation. This saves time and money.
Rubber Tiles 
Similar to a concrete tile but soft and versatile. Rubber tiles are easy to install and available in different colors and sizes. You can customize the design and shapes. All this without compromising safety.
Synthetic Turf
Synthetic turf is safer and less time-consuming than natural grass. You get the experience everyone wants with the natural option. Safe, comfortable, soft, and affordable.
Bonded Rubber Mulch
Bonded rubber mulch acts as a great alternative to asphalt mulch and wood mulch. It's the shredded form of recycled rubber where small rubber pieces are bound together and form a soft. It won't displace from its area whatsoever. It's non-slippery and can be used at running tracks, landscapes, playgrounds, or parks.
Synthetic Grass 
Commonly known as artificial grass, it is often used in houses. It appears like natural grass and even feels the same. However, a rubber layer has to be installed underneath to ensure shock absorption. This option saves you time and money in all surface maintenance.
EPDM Rubber  
EPDM rubber comes in granule form. It is completely safe and ADA certified, making it suitable for playgrounds and all outdoor spaces. The rubber granules are available in different colors, using which creating brightly colored patterns becomes easy. We can have it installed in record time, ensuring the surface's quality.
Is The Service Worth the Investment?
Absolutely. Most of the safety surfacing materials, if not all, are soft to walk, play or run on. All of them have shock absorption properties. This helps keep children safe and play with more confidence.
You can also make your space more appealing. Available in different shapes, sizes, colors, and patterns. Everything is about how you want the space and the design for it.
Hire Our Team at USA Safety Surfacing Experts for the Project
We have been working in this industry for over a decade. We know what it takes to have a safety surface installed. We guarantee the best materials and support, so the result is nothing but the best. We meet all the requirements you should want in your professionals:
Experience: we know what we're doing. Our safety surfacing experts have successfully installed several thousand square feet of safety surfacing materials. This experience helps us avoid mistakes and ensure you get the best results for the surface.
Safe Materials: all the materials we use are of the best quality. They offer maximum safety and can also be customized for shapes and designs. You can get the best of both worlds with our team's help.   
USA Safety Surfacing Experts only use the best-in-class industry products that are safe for humans and pets. Also, the safety surfacing material met ADA guidelines. It's the reason we're one of the top safety surfacing companies in the area.
Professional staff: our team only has experienced, skilled and qualified experts. They offer professional execution and installation and try to deliver the best. Also, our professionals operate the latest machines required to improve the effectiveness and speed up the surfacing process.
Affordable Services: we want to make sure you don't spend a fortune on the service. This is why we have amazing rates and the price goes according to the budget. It's why all of our services are priced competitively and affordable for all.
Warranty: Affordable prices never mean the quality isn't up to the mark. Our work comes with the proper warranty you can rely on if something happens. We will be here to solve it in no time.
Contact Our Team
USA Safety Surfacing Experts has been helping businesses, individuals and all companies in the area. We make sure surfaces are safe in playgrounds and other spaces. Make sure to contact us today and get your own estimate and service. With us, you ought to worry about the material you want only.
Below is our list of additional services:
We're a nationwide safety surfacing company. Click below to find our closest contractor near you
We at USA Safety Surfacing Experts offer the best safety surfacing services throughout the state of Florida. Below are the list of Florida cities we service: