#1 Playground Safety Surfacing Services in Sanford, Florida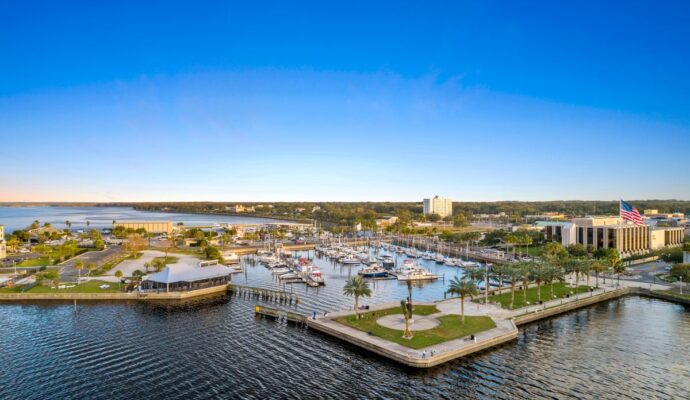 Safety Surfacing is essential for all spaces, not only playgrounds. However, before jumping to the next, we want you to focus on the main place. You want to make sure all children are safe. This is to prevent injuries during falls and trips. The goal is to find qualified professionals for this as it allows you to ensure the best result.
You want safety surfaces for many reasons, not only the comfort aspect. You will want them. This is due to the attractive colors and designs. Thus, some people want the surfacing at homes, offices, schools, and more. USA Safety Surfacing Experts is a reliable safety surfacing company in Sanford and all over Florida. We have been offering top-class services in this field for many years. We have many options and surfaces waiting for you.
Why Is Safety Surfacing Preferred?
The service is widely used and preferred due to its durability, strength, and many other factors that are of great value to the users. Also, these surfaces cost less and require less maintenance. Still, they give amazing support.  
Majorly these surfaces are used in playgrounds, pool areas, or areas with a high risk of accidents. However, you can find usefulness and comfort in them for more spaces.
You can also consider these benefits when in doubt:
Safety– of course, as this is the main purpose behind them. A safety surface is like a protective layer laid on the ground. This layer is so soft and durable that it protects you from injuries.
Durability– The safety surfacing is durable and long-lasting. You can have it for decades and with little maintenance. It is very hard to break or reshape the surface of the safety layer is applied. The layer also does not affect if any weight, metal, or anything falls on it.
Eco-friendly– every material is durable and won't pollute the planet. Each option, be it rubber, plastic, or any other material used, is 100% recyclable and non-harmful to the skin and nature, and you can get them for great prices.
Low maintenance: These surfaces have low maintenance. This is regardless of the option you choose.
Services Provided in Our Company
---
USA Safety Surfacing Experts provides different solutions in the region:  
Safety Surfacing: we work with everything. From installation to maintenance, we take care of all. The basic process of safety surfacing involves the installation of a protective layer. However, not only does it offer protection, safety surfacing materials are quite beautiful and appealing to look at. We will make sure you have both our materials and services.
Poured-In-Place Rubber– PIP is one of our company's most popular options. It is a two-layered safety surfacing often seen in playgrounds, pool fields, and similar spaces. The first layer is the one for safety. The second one protects the first from any damage.
Bonded Rubber– Bonded rubber is a persistent, solitary protective surfacing that is inexpensive. You get a unitary surface that is durable and quite cheap.
Rubber Tiles– Rubber tiles are a favorite for indoor spaces. However, we can also install them outdoors, so you benefit from the amazing colors and safety. Depending on the place's shape and size, it may be bought as a single piece or in bulk.
Synthetic Grass– It imitates the real thing. In other words, this surfacing mimics lawns and is used in home and at school lawns to give them a natural appearance. This artificial grass requires minimal maintenance than natural grass. This is why it is affordable and even better than the real option.
Synthetic Turf– Synthetic turf is mostly used in fields and high-impact areas. It offers better grip and support for all activities.
Bonded Rubber Mulch– you get to imitate the stunning look of wood mulch. This is while also having more safety and support for every user of the space where it is installed.
EPDM Rubber– Ethylene Propylene Diene Rubber is the most flexible and tenacious of all rubber surfaces. It complies with all standards and gets you the most out of your investment.
Contact Us for More Information
Our company offers the best services and safety surfacing products in the area. We're a well-known surfacing business with a long history of providing high-quality services. We maintain high standards and focus on your satisfaction.
We have a full team of well-trained, seasoned, and certified individuals. All of them strive to accomplish tasks with precision and efficiency. Also, our team will help you select the right safety surfacing materials and provide the installation.
You can count on us for good results and prompt service. No matter where you are in the country, we get there. Our company has the best team equipped with the latest machines. These machines not only speed up the process but also help in delivering the results you expect.
We're simply the best. Our company is great for everyone seeking affordable and reliable safety surfacing services. So, if you need deeper insights and want to book a service, contact us now and get a free quote.
Below is our list of additional services:
We're a nationwide safety surfacing company. Click below to find our closest contractor near you
We at USA Safety Surfacing Experts offer the best safety surfacing services throughout the state of Florida. Below are the list of Florida cities we service: