#1 Playground Safety Surfacing Services in Daytona Beach, Florida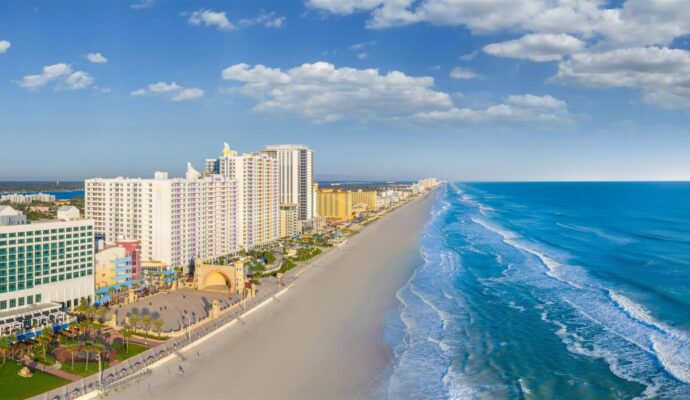 You probably need safety surfacing services if you have a playground, school, or another space. Installing a proper surface will allow you to keep all users safe. This is key for children in playgrounds and schools that can easily fall or get scratched. To work on this, focus on the right materials. Then, find qualified experts in Daytona Beach that can support you.
All outdoor spaces can benefit from this installation. This includes training fields that are the most common spaces besides playgrounds. This will provide a better experience and a clean property for use.
You will need to work hard for the surface. After all, being able to have a surface that will reduce the impact and provide a good-looking appearance will require high-quality materials and top professionals. Otherwise, the result will be the opposite of the desired one. 
At USA Safety Surfacing Experts, we are capable of assessing the area. We will determine the best surfacing alternative based on a few factors:
The location and the main purpose of the surface. This includes safety level and design.

Your budget as the client requesting the services. We care about whether you are able to pay for it or not.

The temperature in the city and possible changes.

Where the surface is going to be installed.

Longevity and durability are wanted.

The maintenance you can provide.
These are the main focus that aligns with your requirements. However, other factors can influence the final choice.
With us, you won't have to worry about anything. We work with several types of surfaces that adjust to aesthetic purposes. None of them will sacrifice shock absorption and the safety goal required for most areas.
Our list of services is right below. Feel free to contact us to request any of them:
Safety Surfacing Services: we will handle the installation process. This includes getting the materials and the right experts. All this is to get you the most suitable surface based on the previous factors.
Poured-In-Place Rubber: this is a two layers system: a base and a wear layer. The base one will make sure to provide the impact absorption of falls up to 12 ft. The second layer promotes the first layer's durability and longevity.
Bonded Rubber: a unitary surface that dries quicker, it's cheaper, and can even last longer. It also requires little to no maintenance. It offers both appearance and longevity, along with safety for falls.
Rubber Tiles: it is often used for indoor spaces. However, our team can help you with outdoor installations. This will be done without compromising the quality and durability of the surface. Geometric patterns are what identify the appearance of this safety surfacing and guarantee great impact absorption for heavy traffic areas.
Synthetic Grass: mostly used as an aesthetical surface due to its uncanny similitude to real grass. However, it costs less to maintain and it's ten times more durable.
Synthetic Turf: it is compared to natural turf and grass. However, it offers more support and comfort. It allows sports, heavy traffic, and high-impact activities to take place due to its tough and solid surface. This is as long as the surface is properly installed.
Bonded Rubber Mulch: offers great shock absorption and imitates the appearance of traditional wood mulch. You can install it in playgrounds and all outdoor spaces.
EPDM Rubber: you get a flexible and long-lasting surface with this option. It should last at least four decades and perform well in all spaces.
How Can You Access Our Services?
USA Safety Surfacing Experts is a company that offers services in Daytona Beach and all nearby areas. We will be there no matter your request.
We want to make sure you don't struggle with installation and maintenance. We can handle even repairs.
We focus on every residential or commercial owner that can contact us to install a safe surface regardless of his or her location in the area. Therefore, you can access our solutions. We will be waiting for you and ensuring everything is properly done.
All it takes to have our professionals working on your safety surfacing needs is a call or email. We will be there in no time. We will start by helping you choose the perfect surface and work our way from there.
Why We Are the Best Option
Installation and the materials' quality determine 85% of the surface's performance. You need to focus on the materials used to manufacture the products. Therefore, high-quality materials must always be used to guarantee the best results. However, few companies do this.
We can promise you that every step will be taken properly. We will use top-quality materials and provide a stunning installation with our experience and knowledge.
Our professionals understand everything that needs to be done. And our company only uses high-quality materials for the surfacing options available. This can be noticed since rubber is our main choice for most of the services and alternatives.
For synthetic grass and turf, we do not use basic plastic but rather nylon and polyethylene. The best options for these types of surfaces are these two, and we always aim for them.
Finally, the installation will take place smoothly regardless of the surface you choose. We will consider the climate and time for it to ensure external conditions will not damage it. The result will be perfect in the end.
Make sure to contact us to have your project done. We want to make sure you don't struggle any longer and have everything done. Your surface will be installed with us in hours or a few days.
Below is our list of additional services:
We're a nationwide safety surfacing company. Click below to find our closest contractor near you
We at USA Safety Surfacing Experts offer the best safety surfacing services throughout the state of Florida. Below are the list of Florida cities we service: