Bonded Rubber Services by USA Safety Surfacing Experts

Bonded Rubber surfacing is an excellent playground surfacing option for those who want the natural look of wood mulch that is safe and required little upkeep. It is made by mixing shredded rubber mulch with a binding agent and troweling it smooth. Every Bonded Rubber is made by experts, ensuring that you get the best quality installation surface possible.
What Is Bonded Rubber?
Bonded Rubber is an alternative type of surface compared to conventional poured-in-place rubber surfaces. It comes with the same one-piece surface as poured-in-rubber but uses a larger area. It is poured on-site in a single-layer scheme, giving the outdoor facility a natural look. Choosing the correct playground surfacing approach is a crucial factor in developing a better play area. Our bonded rubber surfacing solution is designed to work with a variety of playground structures and is matched to the standards required for acceptable safety surfacing, including the proper measurement of play area equipment for fall heights. Our playground surfaces have been accredited to follow all relevant requirements, including impact absorption and wheelchair accessibility.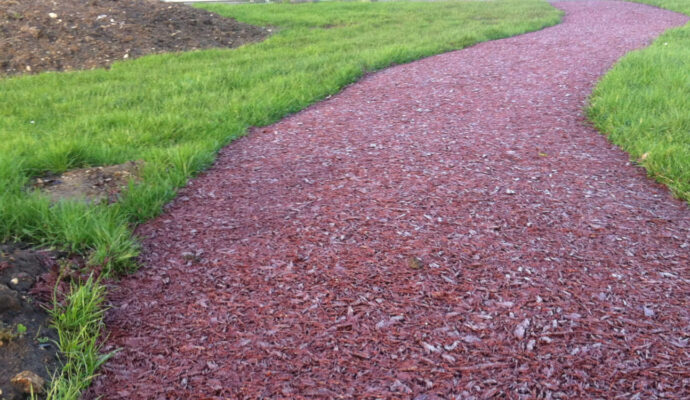 What Can We Do For You?
USA Safety Surfacing Experts' superior bonded rubber multi-layer system can have a playground surface of up to 10,000 square feet. This giant playground may have up to five different playfields, resulting in one massive new playground. When preparing our plan for clients' installation, we have to assess the depth of the surface, and this may be different for each location to meet the fall height specifications of the playground equipment.
The critical fall height is calculated by measuring the distance between the equipment base and the ground. Our products meet or exceed the Consumer Product Safety Commission's specifications. To be safe, the depth of the playing surface should be between 2 and 5 inches. We usually use virgin bonded rubber for the top layer because it is non-toxic and comes in a range of colors for limitless applications. The bottom black coating is often made entirely of recycled tire rubber known as buffings.
USA Safety Surfacing Experts provides environmentally friendly surfaces, that have the required safety depth, and have a bouncy feel for a perfect play surface. We have a team of skilled playground experts who work tirelessly to make that you will be happy with the result. When on-site, our team chief will assess the planned surface area and ensure that the area size and depths correspond to the specific order. When we notice improvements in the surfaces and landscape, we promptly notify the onsite personnel and reach a consensus for a work order. The surface will be mounted after a change order is given, and after it has been fixed, playtime will begin as planned.
Let Us Help You Make The Right Decisions
Bonded Rubber is an ideal alternative with a natural appearance with the advantages of a unitary surface. In contrast to visually equivalent loose-fill surfaces, bonded rubber does not displace when played on and needs less maintenance over time. The properties of bonded rubber allow for piling and sloping, which aids in the creation of a normal setting for your play equipment or walking track. Our company's bonded rubber system creates a useful and environmentally friendly safety surface by using new, shredded rubber from recycled tires. It does not absorb water and will not freeze until well-drained.
Our multi-layer system safety surface is made of the highest quality of raw materials and is suitable for both outdoor and indoor play areas. Both the SBR (styrene-butadiene rubber) foundation and the EPDM (ethylene propylene diene monomer) wear coats are made from the highest quality binders present in the industry. Our soft playground surface is superior and long-lasting. Our bonded rubber surface is beautiful and long-lasting, as well as clean and robust, and is assembled by our highly qualified and skilled construction crew. The only design limitation is your creativity! We have many vibrant colors, intricate graphic designs, and countless custom color mixes to choose from. Contact us now for a personalized quote and a color palette.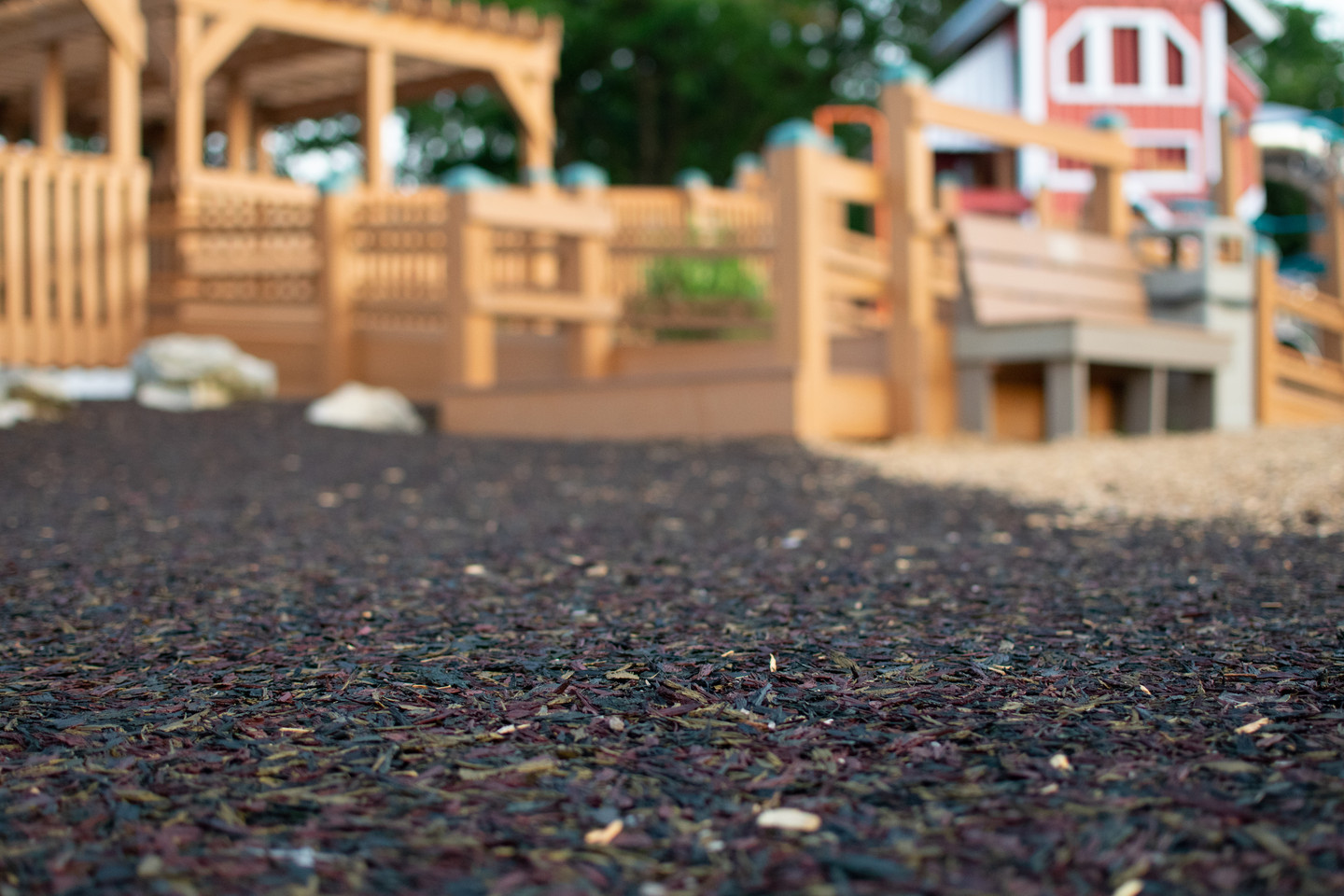 Why Use Rubber Flooring In Playgrounds?
The play area should be a fun place for children to play and learn how to interact with each other. There are many playground surfaces available on the market, but none compares to our rubber flooring for playgrounds. If you don't believe us, give us a call and we will tell you why.
Rubber Flooring has many advantages
Technology has enabled us to create an appealing, practical, and environmentally friendly play area for your children. Here are some of the benefits you will get if you add this flooring style on your gym floor, playground, driveway, breezeway, play area, or other areas. The poured-in-place rubber surface is available in a variety of colors and styles. Most schools will choose to use a color combination that corresponds to their school's mascots and colors. These flooring styles do just that since they are available in a variety of dimensions, variations, and, of course, colors. We can also configure the surfacing with vibrant logos or patterns to create an enticing environment for children.
Bonded Rubber Surface Can Be Used Anywhere
Our Bonded Rubber is useful for schools that are located in suburban neighborhoods where most residents dislike noise. The sound of children playing is normally muffled significantly. The repair method, on the other hand, is not as time-consuming as it is for other playground surfaces. The soil normally repels dirt; all you have to do to keep them clean is vacuum the area regularly to remove litter. Following that, the region is washed with water and soap. This will also disinfect it, and no additional cleaning agents are needed.
We have excellent playground surfacing options that will suit your needs, as well as a repair schedule and the ability to install a roll coat to your current project or any bonded rubber surface that has already been completed. Our experience has enabled us to provide quality that you can rely on when building, removing, or restoring playgrounds, gyms, fields, or any other surfacing that uses rubber. Contact us for all of your surfacing needs.
Below is our list of additional services:
We're a nationwide safety surfacing company. Click below to find our closest contractor near you
We at USA Safety Surfacing Experts offer the best safety surfacing services throughout the state of Florida. Below are the list of Florida cities we service: